"Sport is an important economic, social and cultural platform in a vibrant KSA" and do play vital role to engaging people in both participation and spectator sport. This required constructive professional effort and time to organize, mechanize, market, and administrate any sports events.
CE and SBF have created a joint venture to enhance basketball in Saudi Arabia with solid vision and mission.
1) Vision
To create and operate a commercially viable and competitive basketball league in Saudi Arabia, with member clubs able to challenge rivals from other countries for continental titles
2) Mission
To generate maximum value … for Saudi Arabian basketball by increasing the profile of the sport in the Kingdom and beyond, to be achieved through an improvement in the quality of the sport on-court and the marketing of the product off-court
CE in partnership with SBF aims to make Basketball the second-biggest sport in Saudi Arabia, enable Saudi Arabian teams to achieve international success and create a new generation of heroes.
To create the most powerful new sponsorship opportunity in Saudi Arabia And enable your brand to be seen as one of the most exciting, dynamic, forward-thinking and socially committed brand in the country
The Saudi Basketball Federation (SBF) and CE are seeking the support of Saudi national business entities to help create a strong second national sport to complement football
In return we are committed to delivering value back to your business as part of a long term mutually beneficial partnership.
Saudi basketball has a strong base from which to grow, fuelled by local role models
2nd most followed team sport in KSA*
Football 34% • Basketball 9%
6%of Saudis regularly participating in basketball,
compared to 23% of Saudis regularly participating in football
1.6 million TV Audience
Achievements of Saudi Basketball throughout the years.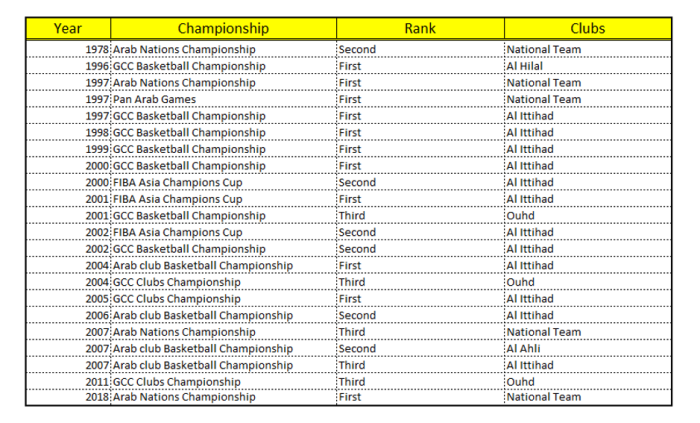 SBL is broadcasted on Saudi Sports channels with good base of audience figures. Below table is sports events television audience figures for the first half of 2020 by IPSOS TLM KSA study.