As more people opt to stay home amid the Coronavirus work at home policy and limited curfew in the country, media consumption is climaxing. Despite numerous media options available such as streaming platforms and connected TVs, this exploratory study indicates that 8 out of 10 people say they are listening more radio than they usually do. The graph below indicates the reasons:-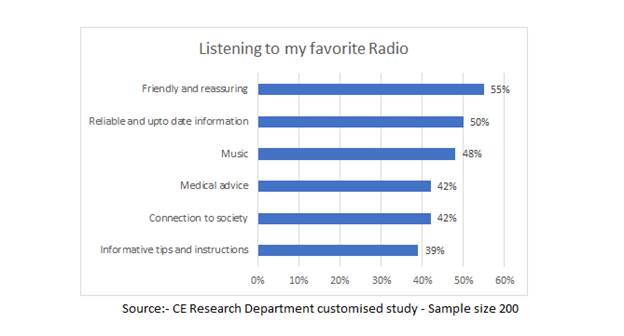 Mr. Salem Badahman said that radio personalities present a connection to the real world as listeners are attracted toward being connected to society and obtain warm friendly and reassuring information. Notably, three-quarters of adults 18 to 34 years old see radio as the most important source of information regarding current Corona virus outbreak. They expressed that radio is for timely, reliable and trustworthy information and braking news.
When probing radio consumption during COVID-19 outbreak, 83% responded that listenership stayed the same or more with radio (55% stayed the same and 28% increased). Analyzing further the increase in consumption of radio, 32% of the increase is from home consumption, 23% is from mobile consumption, 17% is from podcast consumption, 15% is from computer consumption and 12% from others. In contrary consumption of radio from the car has decreased by 17%.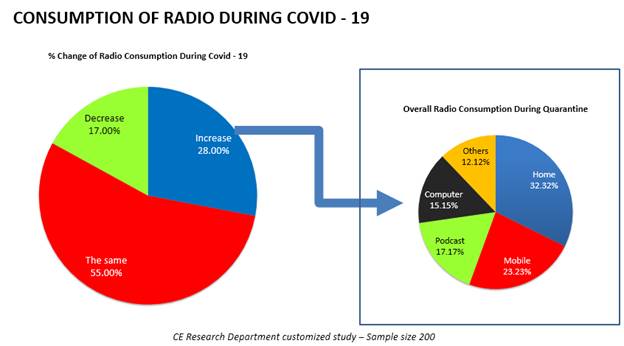 The study also indicated that Saudi youth allocate their stay home time into the following activities: – watching TV, listening to radio, podcasting, social media, surfing internet, sleeping, taking care of house chores, reading, memorizing Quran, relaxation.
As to outdoor activities, focused on helping parents in their businesses. Also, there are those who prefer shopping. In-depth analysis of TV watching behaviors and habits in Saudi Society reveals that Saudi women mostly watch entertainment programs (45%), followed by COVID-19 related news (39%), then Arabic films (35%), then children and family programs (24%), then sport programs (21%), but the lowest watched programs are foreign films at (18%).
As for Saudi men, the study confirms that COVOID-19 related news (47%) are most watched programs, followed by foreign films (39%), followed by recreational programs (34%), then sitcoms (31%), then Arabic films (25%), but the least watched programs are children and women programs (13%).
The study revealed that (41%) of female respondents prefer to spend their stay home time cooking, followed by time talking on phone and social media (34%), then participating aerobics & Yoga (20%), and reading books was the lowest percentage of stay home time spent (2%).
Assessing the enormous time consumers spend with media, nearly the entire population is spending over 14 hours each day with media among stay at home period. Over 90% of the population is confined and concerned about the outbreak; it is good opportunity for brands to create long-term relationships with radio listeners. Significantly, 60% of the respondents say that radio has helped them deal with the outbreak.